07 Oct

Twitter Hacks: 21 Tricks and Features You Probably Didn't Know About

By Christina Newberry

With 313 million monthly active users, Twitter is a huge social media network offering plenty of potential for meaningful connection. But with more than 500 million Tweetssent every single day, it can be tricky to stay on top of the most relevant content, get your Tweets seen, and maximize the time you spend on your Twitter activities.

Fortunately, Twitter offers in-depth capabilities that allow you to laser-target your efforts. We've dubbed these strategies Twitter hacks because the lesser-known features can seriously up your Twitter game… if you know how to find them.
General Twitter hacks and tricks
1. Add emoji from your desktop
When you're working with 140 characters, emoji can save valuable space. They're easy to use on a mobile device, but can be a pain to access on a desktop. Fortunately, if you use a Mac, there's a keyboard shortcut to bring up the emoji character set.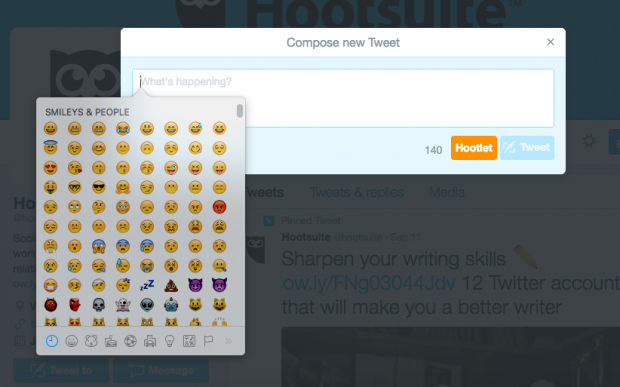 How to do it:
Place your cursor in any text field
Press the control, command, and spacebar keys
2. Beat the 140-character limit with a text screenshot
Sometimes there's just more to say than you can manage in 140 characters. Luckily, you can use the text application on your mobile device or any word processing program on your desktop to write a longer message, then share an image of that message in your Tweet. This isn't a strategy you should overuse, but it can come in handy when there's something you just have to get off your chest.
How to do it:
Open your favorite text or word processing app
Write your message
Take a screencap
Start a new Tweet, then tap the camera button
Add the screencap to your Tweet as an image, then add some text to introduce what the image has to say
3. Use Twitter Analytics to find the right time to reach more followers
The half-life of a Tweet is just 24 minutes, and a Tweet reaches 75 percent of its potential engagement in less than three hours. That means you need to Tweet at the right time to reach the most potential followers and maximize engagement.
Research generally shows the best posting times are 12 p.m., 5 p.m., and 6 p.m. Start at these times with your own strategic efforts, then use engagement data from Twitter Analytics to fine-tune your timing based on engagement. Once you know the best times to Tweet for optimal engagement, you can use Hootsuite to schedule your posts.
How to schedule a Tweet in Hootsuite
In the compose message box, click the Scheduling calendar icon
Select the date and time to publish the message (12:00am is midnight, and 12:00pm is noon)
Optional: Check the box to receive an email when the message is sent
Select your Twitter profile from the profile options to the left of the compose box
Click Schedule
4. Let Siri (or other personal mobile assistants) Tweet for you
If inspiration strikes while you're walking, driving, or in any other situation where handling your phone isn't an option, your device's mobile assistant can Tweet for you, hands-free.
How to do it on iOS:
Activate Siri (say "Hey Siri" or hold down the home button)
Say "Send a Tweet"
Speak the text of your Tweet
Confirm to send
How to do it on Android:
Activate Google Now (say "OK Google")
Say "Post to Twitter"
Speak the text of your Tweet
5. Use Twitter keyboard shortcuts
Did you know that there are keyboard shortcuts hiding right under your fingertips when you use Twitter on your desktop? You can keystroke your way to new messages, expanded photos, and more, all without touching your mouse.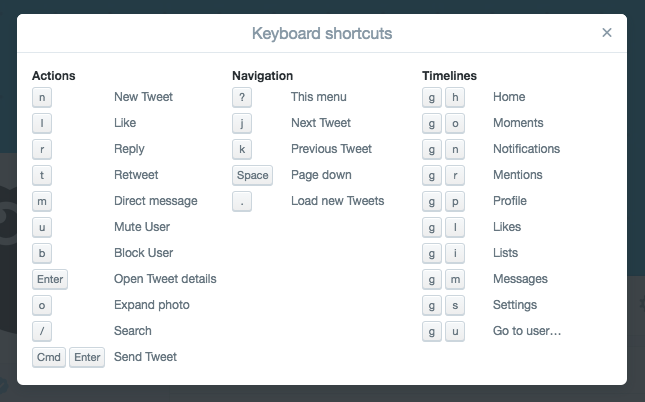 How to do it:
With your cursor in the background of any Twitter profile, press shift + ? to bring up the list of keyboard shortcuts (or take a look at the list above)
Use the keystroke combinations to navigate more quickly through your Twitter tasks View Full Article >>
---
Article Compliments of: