06 Jul

Social Media News You Need to Know: June 2016 Roundup

By Kendall Walters

June was yet another busy month on social.

Twitter released a lot of new changes—a lot a lot—longer video, Promoted Tweet Carousels, and two new companion apps.

Meanwhile, Facebook released its own set of emoji and Instagram hit 500 million users.

Find out all the social media news worth knowing from all the major platforms in our June 2016 roundup.
Twitter
Pre-roll automation tools
On June 2, Twitter announced that they're rolling out an easier way for advertisers to "serve pre-roll ads of any length in front of the most premium mobile videos." Twitter pre-roll now supports Video Ad Serving Templates (VAST) through select Ads API partners. David Regan, Twitter's group product manager of video, explained in the announcement blog post: "Today's launch makes Twitter the only social platform that allows advertisers to systematically deliver pre-roll ads against video content from top sports, TV, and digital publishers."
Promoted Tweet Carousel
On June 3, Twitter announced they've begun testing the Promoted Tweet Carousel. In the announcement blog post, Andrew Bragdon, revenue product manager, explained that it's "a new ad unit that gives marketers a rich canvas for brand storytelling using their own Tweets or Tweets about their brand by users who have given permission to the brand." The new feature will allow advertisers to curate multiple Tweets into a single swipeable ad unit. Promoted Tweet Carousel is currently being tested as alimited alpha (an early version of the product that may not contain all the features planned for the final version) to accounts in select global markets.
Twitter Insiders program
On June 8, Twitter announced a new program for consumer and market research. Twitter Insiders is a network of more than 12,000 Twitter users, aged 16 and up, who participate in research studies, acting as an "anonymous virtual panel from across the U.S. and U.K." The program is intended to be "a one-stop solution for recruitment, design, and collection of live research." Agencies and their clients can work directly with Twitter Insiders or design studies in conjunction with CSpace, "a team of consultants who specialize in fostering collaboration between companies and their customers."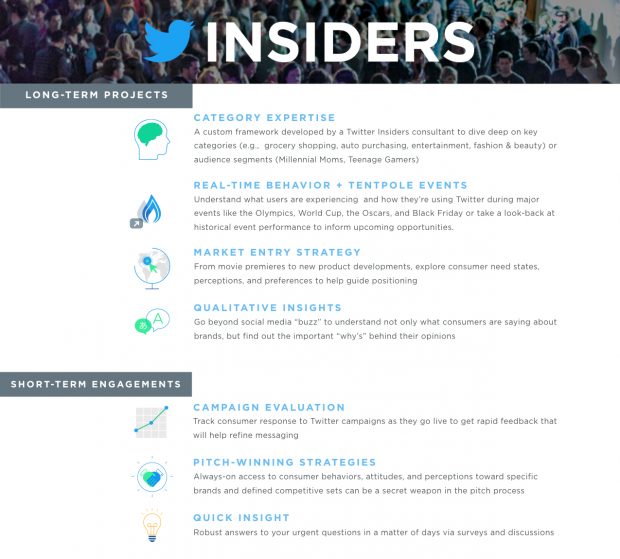 Android design refresh
On June 7, Twitter rolled out a redesigned version of the app for Android. Changes include:
A tab bar with swipe functionality at the top of the screen to allow for quick switching between timeline, notifications, direct messages, and other functions
A navigation menu (with access to your profile, highlights, lists, etc.) that slides out from the side
A new floating action button so that users can easily send a Tweet from any part of the app.
The redesigned Android Twitter app rolled out globally on June 7.
Easier to embed timelines
On June 7, Twitter announced that they've made it easier to embed timelines to websites and other content management systems (CMS). New functionality includes:
Factory functions so users can easily generate timelines for any web app
oEmbed API which will allow seamless integration of profiles, lists, likes, or collection timelines directly into a CMS.
The change also eliminates the need to create and save widgets.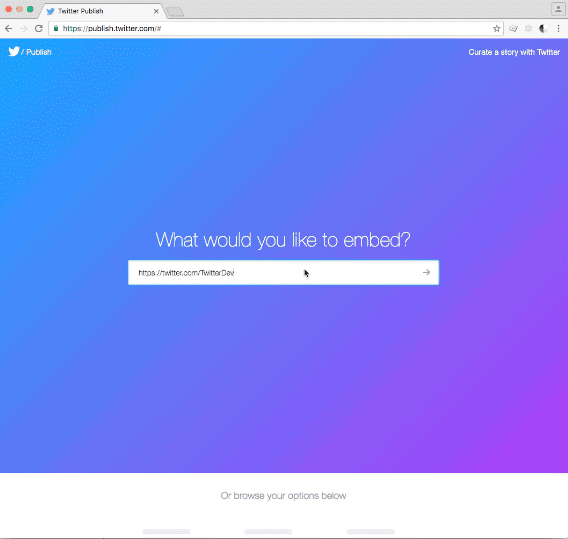 Emoji targeting
On June 15, Twitter announced the ability to target emoji keywords for Twitter Ads.
This feature will allow advertisers to target users who have recently tweeted or engaged with Tweets featuring emoji. Neil Shah, Twitter product manager of the ads API, explained in the announcement blog post: "This new feature uses emoji activity as a signal of a person's mood or mindset—unlocking unique opportunities for marketers." To access emoji targeting functionality, advertisers must reach out to one of Twitter's official partners. View Full Article >>
---
Article Compliments of: