06 Jul

How Real Brands Are Retaining Customers: 8 Strategies From Starbucks, Amazon & More

Written by Jenny Beightol 

What's better than acquiring a new customer?

If your first thought was "retaining a current customer" then your strategic thinking is in the right place. While there's a certain allure that comes with capturing new customers, keeping customers coming back will continually result in a greater ROI, as seen in arecent study from Belly.

How do you create a customer retention strategy that keeps your current customers engaged?

Below, I've detailed eight retention strategies that the biggest brands are currently using to inspire loyalty. From leveraging convenience to prioritizing personalization, these are elements any marketer and business owner can take and test today.
8 Examples of Customer Retention Strategies in Action
1) TOMS: Begin with a mission.
Sometimes a brand inspires loyalty not through tactics and systems, but through what they stand for.
If you've ever watched Simon Sinek's TED talk "Start with Why," you probably already know a thing or two about the importance of having a mission, or "reason why."
TOMS has built their entire business model around making the world a better place. AsFast Company contributor Jessica Weiss put it:
TOMS669 has integrated old-fashioned, for-profit entrepreneurship with new-wave, bleeding-heart philanthropy."
The way they do this is in their "One for One" policy. For every pair of shoes that are purchased, they give a pair to people in need, thus far donating over 60 million pairs of new shoes.
As consumers, we're focused on the altruistic and environmental effects that our buying habits have beyond consumption. Doing good is becoming more and more important to us.
This doesn't mean you should build your marketing around an altruistic message just to do it. The lesson is in finding something that people care about and positioning your brand around it.
2) Starbucks: Empower customers with convenience.
The coffee goliath has always been innovative with their marketing, especially in the customer acquisition department.
In the early days, Starbucks founders Zev Siegl, Jerry Baldwin, and Gordon Bowker focused on the sounds and the smells inside their shops in order to provide a delightful customer experience.
But to grow, they had to get innovative. One of their most innovative customer retention moves is their Mobile Order & Pay feature within their app. Thanks to the new feature, customers can order their coffee before they even arrive at the shop.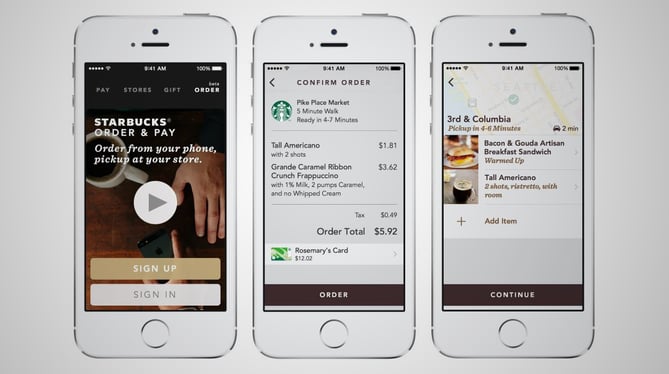 Image Credit: AskMen
What'd their customers think about the addition? In short: They loved it.
669″Just this morning I parked at my kid's school, placed my order in the parking lot, took him inside, then walked over to the Starbucks and picked up my drink. Mobile Order & Pay can cut 10 minutes out of my morning routine. I told my boss that it's the reason I'm actually on time for work now," explained busy mom Danielle Lesikar.
The simplest takeaway here is this: make your products and services as accessible as possible. Identify the desires and behaviors of your customers and create tools and systems that empower them. Whether that be an app or other traditional methods, it's up to you.
3) Tesco: Add a personal touch.
This supermarket giant has a strong presence in the UK, with over 2,000 stores nationwide.
For huge brands like these, coming across as authentic and human can be a challenge. Online grocery shopping and self-service scanners are convenient, but people still like dealing with other people.
Customer service is still necessary, and the folks at Tesco have chosen to use Twitter as a way of executing this with a human touch. They show they care by adding personality to their interactions with customers. View Full Article >>
---
Article Compliments of: