14 Jun

Everything You Ever Wanted to Know About Snapchat (But Were Afraid to Ask)

By Dara Fontein

Even though Snapchat is said to have over 150 million daily users, many are still at a loss for where the app fits into their marketing plan.

Think for a moment about some of your most embarrassing moments. Perhaps you fell off of a chair in the middle of a painfully hip, packed restaurant (me). Maybe you fell asleep in the middle of a meeting and got called out by your coworkers (me). Perchance you were at a professional development event at a colleague's family cabin and broke the host's hammock (spoiler alert: me). Whatever your most cringe-worthy moments, I bet you wish they could disappear forever after 10 seconds. This is what sets Snapchat apart.

While it can't erase embarrassing memories from your life, Snapchat's fleeting nature has been both a blessing and a curse for brands using the image-sharing platform. With the maximum lifespan of a Snap being 24 hours, businesses and brands have had to approach marketing differently on the platform. To help you navigate these uncharted waters, we asked our community for their top Snapchat questions and answered them below.
How do you get more trophies?
Trophies are a fun but not often discussed feature of Snapchat. Introduced in October 2015, trophies are unlocked when you complete various challenges or sets of specific actions through the app. For example, when you send 50 video Snaps you receive a trophy in the shape of a video camera. And when you send 1,000 Snaps using your front-facing camera you receive a trophy in the form of the Japanese Ogre emoji (not that I would know…). To make your life easier, The Huffington Post has provided a thorough guide to unlocking all trophies and the steps you need to take to do so.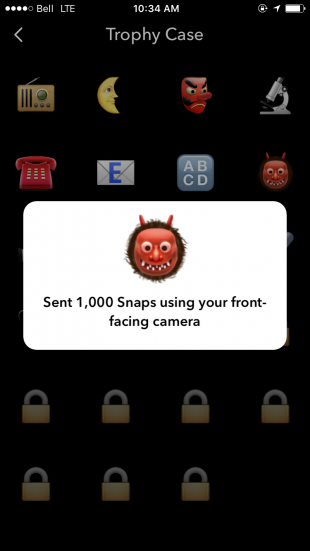 And where is this magical Snapchat Trophy Case located? To access your Trophy Case:
Tap the ghost icon at the middle top of the Camera screen
Tap the trophy icon at the top of the Profile screen
Tap on a trophy to see how you earned it
As Snapchat explains: "Some trophies have multiple levels of achievement! Keep exploring Snapchat to earn them all."
While mostly just a fun feature, you can use your Snapchat Trophy Case as an indicator of how well you are engaging with the platform. Trophies such as "Sent 10 Video Snaps" are great ways of tracking your activity. The list of Trophies you have yet to unlock can also provide great inspiration for future Snapchat ventures. If you haven't yet sent or posted 100 Snaps using text or doodled on your Snaps with more than five pen colors, these could act as goals for your Snapchat strategy. View Full Article >>
---
Article Compliments of: