15 Jun

A Simple Guide to Navigating Trending Content

Written by Alex Jones

The cultural landscape of the modern world is constantly changing. Internet celebrities are created in as little as six seconds. Viral videos can be viewed in every continent across the world in a matter of hours. There's a lot going on.

As a result, there are also a lot of opportunities for brands to join the conversation — that is, if they can keep up. With things moving at such a fast pace, trends can disappear before we even have time to craft a meaningful message in response to them.

But what technology takes away in terms of time to prepare, it makes up for in ways to monitor and follow these (sometimes global) conversations. In fact, there are a ton of awesome tools and tricks of the trade out there that are designed to help brands make the most out of popular content and trends.

That's why we put together the following guide on trending content: to help all of you figure out a plan for not only discovering and planning for trends and events, but also finding ways to connect your brand's story to them in an interesting and relevant way.
A Simple Guide to Navigating Trending Content
Discovering Trending Content
Price: Free version available. Paid packages are broken down into three categories: Pro ($99/month), Agency ($299/month), and Enterprise ($999/month).
With the help of BuzzSumo's "Most Shared" function, users can easily identify what content has worked well in the past. What's more, the "Trending Now" function can display the most popular content being read across the internet within the last two hours.
The "Most Shared" function is perfect for mining ideas for your next content campaign, while the "Trending Now" function is ideal for tapping into articles and conversations that people have responded to in real time.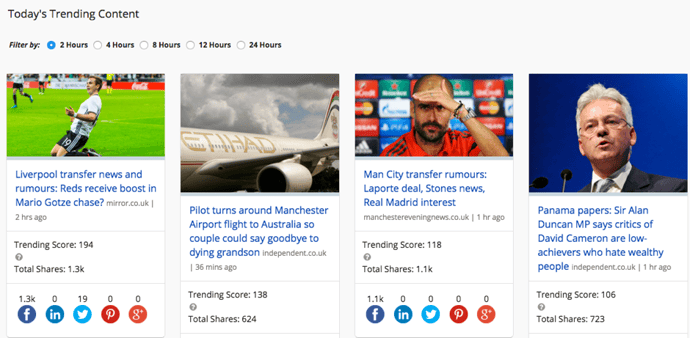 ---
Article Compliments of: