13 Jul

75 Marketing & Business Acronyms & Abbreviations Every Industry Pro Should Know Written

by Lindsay Kolowich

Have you ever heard an acronym but you didn't know what it meant? It can really throw you off your game in a conversation. I usually try to write it down discreetly or, if I have a laptop, look it up online without anyone seeing.

But industry-specific acronyms can have multiple meanings, and sometimes Wikipedia doesn't do them justice.

That's why we curated 34 of the most common marketing acronyms and 41 of the most common business acronyms — and put them into an epic glossary you can skim, study, or bookmark and save for later.

The more you know, the more likely you'll be able to understand and participate in conversations going on around you.
34 Common Marketing Acronyms & Abbreviations
AIDA: Attention/Awareness, Interest, Desire, Action
The four steps of the now somewhat outdated Purchase Funnel, wherein customers travel from consideration to purchase. Learn more here about a more current purchase consideration cycle.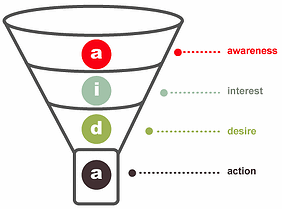 BANT: Budget, Authority, Need, Timeline
The four criteria sales reps use to qualify prospects. A famous tool for sales reps and sales leaders to help them determine whether their prospects have the budget, authority, need, and right timeline to buy what they sell.
B = Budget: Determines whether your prospect has a budget for what you're selling.
A = Authority: Determines whether your prospect has the authority to make a purchasing decision.
N = Need: Determines whether there's a business need for what you're selling.
T = Timeline: Determines the time frame for implementation.
The BANT formula was originally developed by IBM several decades ago. We don't think BANT is enough anymore: Learn more about the qualification criteria set by HubSpot's VP of Sales.
BR: Bounce Rate
Website bounce rate: The percentage of people who land on a page on your website and then leave without clicking on anything else or navigating to any other pages on your site. A high bounce rate generally leads to poor conversion rates because no one is staying on your site long enough to read your content or convert on a landing page (or for any other conversion event).
Email bounce rate: The rate at which an email was unable to be delivered to a recipient's inbox. A high bounce rate generally means your lists are out-of-date or purchased, or they include many invalid email addresses. In email, not all bounces are bad, so it's important to distinguish between hard and soft bounces before taking an email address off your list. Learn about hard and soft bounces here.
CAN-SPAM: Controlling the Assault of Non-Solicited Pornography And Marketing
A U.S. law passed in 2003 that establishes the rules for commercial email and commercial messages. This regulation gives recipients the right to have a business stop emailing them, and outlines the penalties incurred by those who violate the law. For example, CAN-SPAM is the reason businesses are required to have an "unsubscribe" option at the bottom of every email. Learn more about CAN-SPAM here, and check out this post to discover what factors affect email deliverability.
CASL: Canadian Anti-Spam Legislation
A Canadian law passed in 2013 that regulates the sending of "commercial electronic messages." CASL covers email, texts, instant messages, and automated cell phone messages sent to computers and phones in Canada. Learn more of the details on CASL here.
CMO: Chief Marketing Officer
The most coveted job in the marketing organization chart. A CMO's skill set is rooted in marketing fundamentals but expands into personnel development, quantitative analysis, and strategic thinking. Learn more about what it takes to be a CMO here.
CMS: Content Management System
A web application designed to make it easy for non-technical users to create, edit, and manage a website. Helps users with content editing and more "behind-the-scenes" work like making content searchable and indexable, automatically generating navigation elements, keeping track of users and permissions, and more.
At HubSpot, we think COS (Content Optimization System) is better than CMS. Find out why.
COS: Content Optimization System
Take a CMS (Content Management System), and optimize it to deliver customers the most personalized web experience possible. Learn more about HubSpot's COS here.
CPA: Cost-per-Action
An internet advertising model where the advertiser pays for each specified action someone takes, like an impression, click, form submit, or sale. You can decide if a given action is a lead or a sale. Marketers use it to figure out spending for the desired action they are driving people toward.
CPC: Cost-per-Click
The amount of money spent to get a digital advertisement clicked when running a PPC advertising campaign. CPC is used to assess the cost effectiveness and profitability of your campaign.
CPL: Cost-per-Lead
The amount it costs for your marketing organization to acquire a lead. This factors heavily into customer acquisition cost (CAC), and is a metric marketers should keep a keen eye on.
CR: Conversion Rate
The percentage of people who completed a desired action on a single web page, such as filling out a form. In general, pages with high conversion rates are performing well, while pages with low conversion rates are performing poorly (though there can be exceptions to this rule).
CRM: Customer Relationship Management
A set of software programs that lets companies keep track of everything they do with their existing and potential customers.
At the simplest level, CRM software lets you keep track of all the contact information for these customers. But CRM systems can do lots of other things, too, like tracking email, phone calls, and deals; sending personalized emails; scheduling appointments; and logging every instance of customer service and support. Some systems also incorporate feeds from social media such as Facebook, Twitter, LinkedIn, and others.
The goal is to create a system in which Sales has lots of information at their fingertips and can quickly pull up everything about a prospect or existing customer.
CRO: Conversion Rate Optimization
The process of improving your site conversion using design techniques, key optimization principles, and testing. It involves creating an experience for your website visitors that will convert them into customers. CRO is most often applied to web page or landing page optimization, but it can also be applied to social media, CTAs, and other parts of your marketing. Learn more here.
CTA: Call-to-Action
A text link, button, image, or some other type of web link that encourages a website visitor to take an action on that website, such as visiting a landing page to download a piece of content.
The action you want people to take could be anything: Download an ebook, sign up for a webinar, get a coupon, attend an event, and so on. A CTA can be placed anywhere in your marketing — on your website, in an ebook, in an email, or even at the end of a blog post. Learn more about how to make CTAs effective.
CTR: Clickthrough Rate
The percentage of your audience that advances (or clicks through) from one step of your marketing campaign to the next. As a mathematic equation, it's the total number of clicks that your page or CTA receives divided by the number of opportunities that people had to click (ex: number of pageviews, emails sent, etc).
DM: Direct Mail, or Direct Message (Twitter)
Direct Mail: The delivery of advertising material to recipients of postal mail; also called "junk mail" by its recipients. Direct mail is a dubious investment for most businesses — here's why.
Direct Message: A message on Twitter used to get in touch with Twitter followers directly and in private. DMs can be sent from one person to another, or within a group. Most accounts only allow DMs from their followers, but many businesses allow DMs from anyone. To learn more about how DMs work, check out this resource from Twitter.
GA: Google Analytics
A service by Google that generates detailed statistics about a website's traffic and traffic sources, and measures conversions and sales. Marketers use it to get to know their audience, trace their customers' paths, and make a visual assessment of how visitors interact with their pages. Click here to find out why analytics from HubSpot and Google don't match. View Full Article >>
---
Article Compliments of: