27 Oct

What Social Media Marketers Get Wrong About SEO: The 4 Biggest Mistakes

By: Dara Fontein

Search engine optimization, or SEO, is probably one of the most misunderstood marketing practices today. From keywords to algorithms, understanding SEO can be a time-consuming and seemingly complex undertaking for most marketers. What keywords work best? How many links should I use? You might have a lot of questions, but the bottom line is this: SEO is about getting your content seen by (the right) people.

To keep your SEO strategy on track, we consulted Hootsuite's resident SEO expert,Zak Ramdani, on the biggest SEO mistakes marketers make—and how to avoid them.
The 4 biggest SEO mistakes marketers make
1. Misunderstanding the relationship between SEO and social
Although Google suggests social signals do not impact rankings, one can draw correlations between top-performing social content and top performing content on the web with the common denominator being quality content. Content shared on social that receives lots of shares, likes, and comments will likely get similar engagement metrics that lend themselves to Google's authority signals, and in turn positively impact your rankings.
That said, our SEO expert Ramdani recommends social media managers ensure they aren't creating social media plans with the exclusive intent of improving rankings. Instead, it should be understood that SEO and social media work together as part of an overall marketing plan to boost engagement and improve reach.
A solid social media presence, combined with valuable content and community building, work together to contribute to increasing brand awareness, website traffic, and improved social customer service.
2. Not sharing content strategically
As the connection between social media and SEO content is key for marketing success, social media managers need to be strategic about the type of content they share.
Instead of sharing only new content, analyze the performance of your past work and recognize what is bringing the most traffic to your site. What kind of content is driving the most traffic? What is getting shared the most? What are the most popular topics and themes your audience engages with? These are all questions social media managers need to consider when deciding what content they will focus on sharing through their online channels.
As Ramdani says, "Pick the consistently winning horse instead of a beat up car that's never won." Create a bank of your best-performing evergreen content that you can rotate in your social media content calendar, and share these assets alongside your newer content.
3. Expecting overnight success
SEO is an incredibly effective way of improving traffic to your site, but it's not a quick fix. Marketers will often expect to deploy strategies and get immediate results. And when they don't get these results, they abandon the plan.
SEO takes time to pay off, so impatience is one of the biggest roadblocks for marketing managers.
One of the main reasons SEO is a long-term strategy rather than a short-term quick fix, is because of the huge volume of content online. As this Domo infographic shows, the amount of data being shared online every minute is staggering.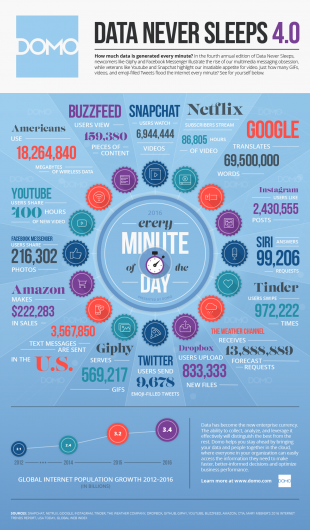 You aren't alone in your industry, and you aren't the only one pushing out content. Because of this competition, you need to always follow SEO best practices, produce and share quality content, and analyze your results.
Influencers and high-traffic sites put in the work to build authority, and search engines recognize this. Positioning your brand as one to trust (both by search engines and customers) doesn't happen overnight. Marketers need to post quality content on a consistent basis and ensure it's gaining valuable backlinks to help establish credibility.
Once social media managers and marketers recognize the time and effort involved in seeing their SEO efforts pay off, they can concentrate on driving their strategy forward. View Entire Article >>
---
Article Compliments Of: