06 Jul

Google Plus for Business: How to Put the Platform to Work For Your Brand

By Emily Copp

Google Plus is a somewhat unappreciated friend. We know it's important, but we don't give it much attention or love—it's often neglected in favor of other social networks.

Like any good companion, you need to give Google Plus the time it deserves to experience the benefits. It has over 300 million active users and has recently been folded into Google My Business, which is basically Google's way of getting you more customers.

In this last few years, Google Plus has undergone some major updates. This guide will give you a quick primer on everything you need to know about Google Plus, with simple steps on how to get yourself set up and ready to go.
Why Google Plus for business?
Like all social networks, Google Plus, also known as Google +, presents an opportunity to connect with a community of customers and fans. Unlike other networks, Google Plus has significant impact on SEO and search traffic volume. Here's why you should pay attention:
Local search results
Google Plus Pages are now managed through Google My Business, a platform that makes it easy for customers to find and connect with your company. Google My Business uses Search, Maps, and Google Plus to make your brand more visible in local search results. For example, when I search "coffee shops Seattle," Google Plus listings are at the top of my search with all the relevant information: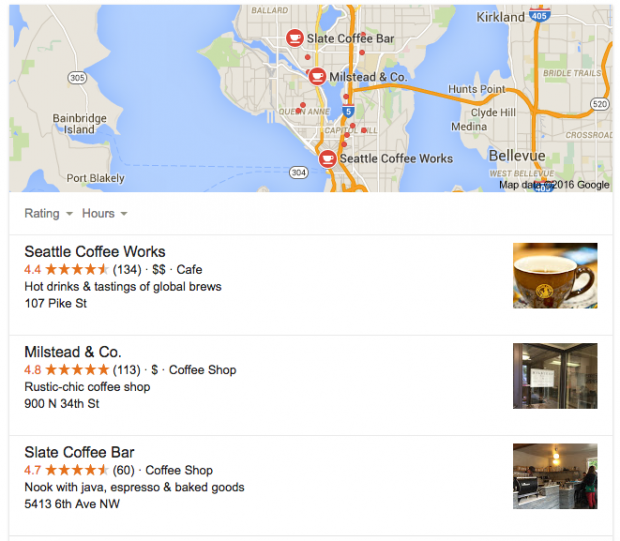 If you're hoping to make your company more discoverable (and easy to locate geographically) Google has handed you the tools you need on a silver platter. As astudy from Optify tells us, it pays to be at the top. Websites that appear on the first page of Google get 54.8 percent of all clicks from users.
Long-term SEO value
Google Plus remains a key part of organic search rankings and brand visibility. AsSEMRush points out, "…the simple fact is that studies of SERP ranking factorscontinue to highlight the influence of Google My Business signals (and therefore Google Plus) have on your organic rankings."
Also, as mobile search continues to grow, your Google Plus business listing will be an important factor for local SEO. The lesson? It pays to set up a Google Plus account through Google My Business and optimize it for your target audience.
Influence over potential buyers
Google Plus accounts are no longer required for customers to leave reviews. That means anyone that does business with you can share their experience. You can use Google Plus business reviews as a way to get more credibility, increase your organic search ranking, and influence potential buyers to check you out over the competition.
Resources at your disposal
With Google Plus comes a ton of resources from your friends at Google. You have access to Communities, YouTube, Gmail, Google Maps, Hangouts, AdWords—all intended to help you maximize your marketing strategy. View Full Article >>
---
Article Compliments of: